Description
Pop Up Display is one of the most commonly used and affordable way of setting up a portable booth at events, roadshows or exhibitions! What is amazing about pop up display system printing is that it's reusable for future needs and comes with an attractive yet sturdy retractable magnetic system.
This pop up display system comes with high quality and sturdy retractable frames, and uses magnetic stripes and bars to hold onto your large format prints. We provide both design services and printing services for your pop up display system needs.
Specifications of Pop Up Display
– Strong & Sturdy Retractable Aluminum Frames
– Easy to Setup & Install
– Lighting & Counter Top sold seperately
– Comes with a Portable Case with wheels, Magnetic strips & rigid pvc sheets for mounting prints
– Takes only 5-10 Minutes to setup!
– Replaceable Prints For Future Events
– Presentable & Professional
– Easy-To-Store, Compact
This type of display system is ideal for creating a powerful impression at your exhibitions, events or roadshows. It's extremely easy to setup and dismantle with minimal knowledge required!
For reference only, kindly do measurements before production.
Printing Size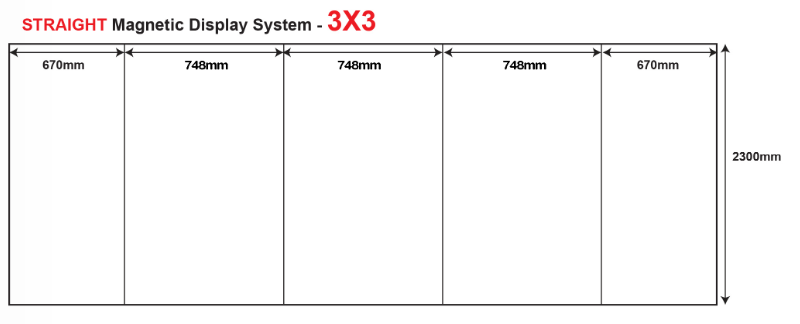 Packaging Details:
Pop Up System (3x3)
18 magnetic bars
5 hangers (top)
5 PVC sheets
1 roll magnetic strip
1 pvc hard carbon trolley case
system weight 25kg
Pop Up System (3x4)
21 magnetic bars
6 hangers (top)
6 PVC sheets
2 roll magnetic strip
1 pvc hard carbon trolley case
system weight 32kg
* New Case size: Height 85cm, Diameter 42cm
Specifications
Measurement:

set

Sample Type:

Material Type:

Weight (KG):

Colour:

Size:

Type:

Usage Type:

Supplier Type:

MOQ:

Shape:

Packing:

Accessory:

Request:

Shipment Location:

Shape: