Description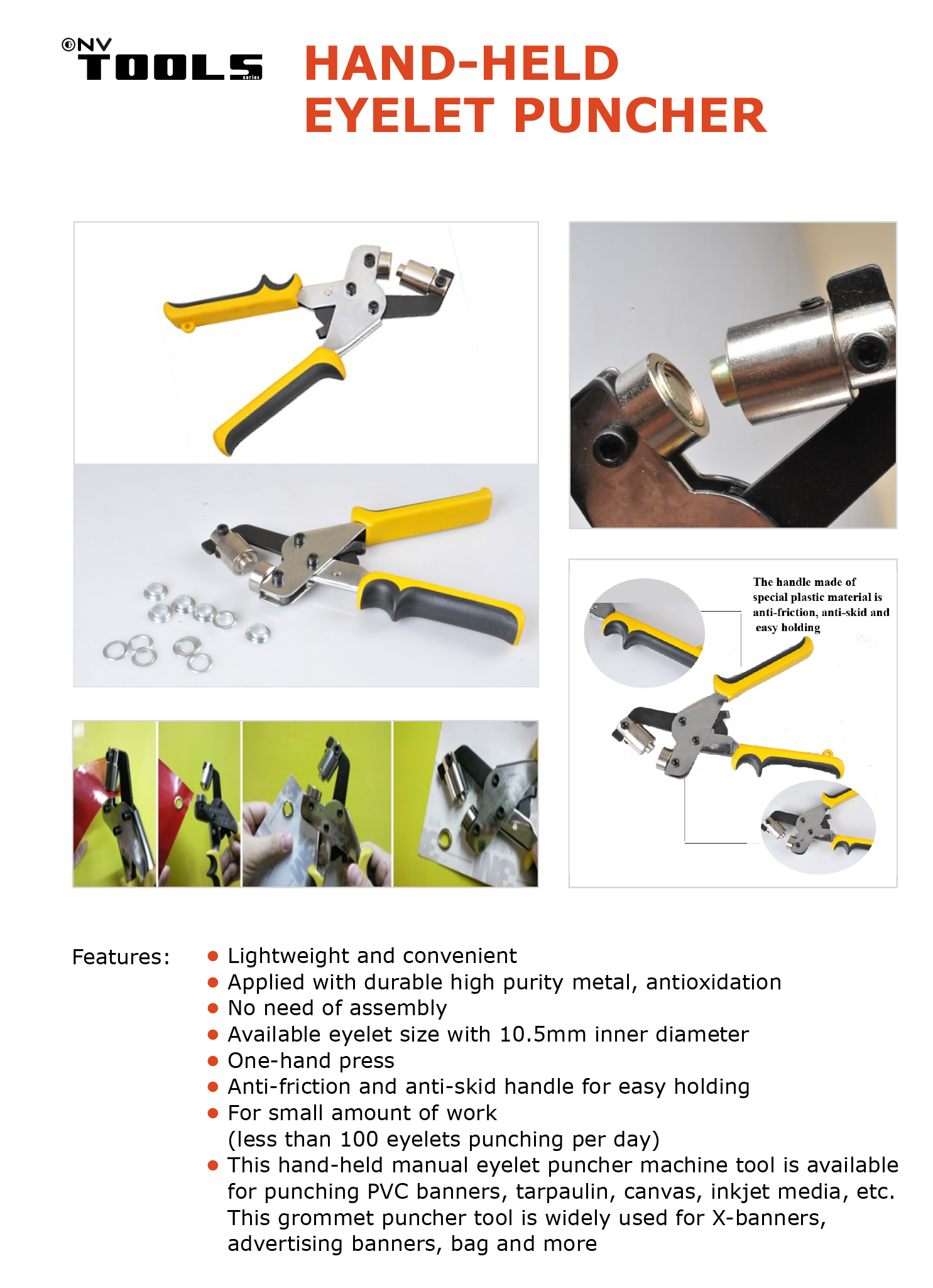 Description
This manual eyelet puncher in light weight is very easy to take and convenient to use because of its redirecting transmission.
1. Applied with durable high purity metal, antioxidation and long life span.
2. No need of any auxiliary tools and can finish eyelets independently.
3. Full use of mechanics and 30% laborsaving.
4. No need of assembly.
Features
1.Available eyelet with 10.5mm inner diameter.
2.With correct opening angle, you can press it by only one hand.
3.Magnetic dies fix the eyelet and washer well. The die set and the eyelet punch tool integates together and can not be replaced.
4.The handle made of special plastic material is anti-friction, anti-skid and easy holding.
Warm Tips
1. This manual grommet puncher machine tool is smart and lighter that is specially available for small amount of working (Less than 100 eyelets punching per day).
2. If you have a big amount of proccessing eyelets (more than 100 eyelets), you'd better to choose the compared hand press grommet machine. Meanwhile, the compared maual grommet machine is heavy duty and we recommend you to choose it when you want to punch bigger and thicker banners.
Application
The manual eyelet puncher machine tool is available for punching PVC banners, tarpaulin, canvas, inkjet media, etc. This grommet puncher tool is widely used for X banners, advertising banners, bag, etc.
Specifications
Measurement:

pc

Sample Type:

Media Type:

Material Type:

Colour:

Brand Name:

Weight (KG):

Profile:

Size:

Usage Type:

Supplier Type:

Item Name/Model No:

Length:

MOQ:

Shipment Location: